[Update: HALF of the need mentioned below has been met as of today!! Just $1,000 per month to. Yay, God!]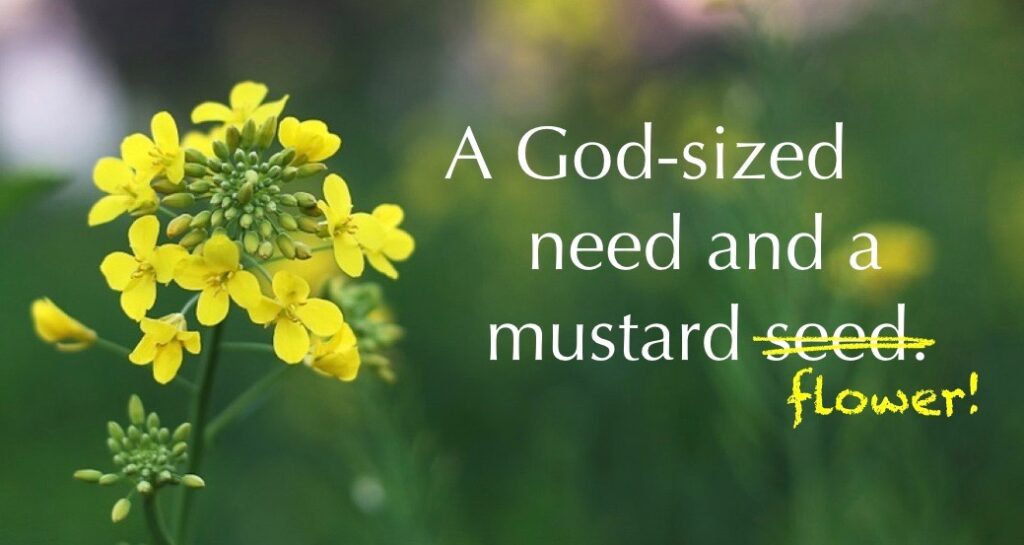 I love this ministry. I love that God called me to it nearly thirty years ago and that it's flourishing in new ways today. I love witnessing missionary families going from broken to mended and MKs going from fragmented to whole. What a gift it is to be a part of the healing…




But we live in a world where even God-given ministry depends on financial stability—and I've just learned that mine is running a scary-big deficit.
I'll admit that I was shaken when I found out how great the need is. Then I realized that I was functioning out of a mustard-seed faith—the kind that doesn't remember how God has already proven his faithfulness over and over again. He called me to this ministry in 1991 and has expanded it exponentially, in reach and impact, over the past twenty-eight years. How could I doubt him now?
So, as I anchor my trust to the same God who has always provided for this work, I acknowledge that the need is great—running low by $2,000/month—but that it's time for my mustard seed faith to grow into a mustard flower! (Even if you can't give, see bottom of post for several ways in which you might be able to help.)


Why a ministry focused on MKs? Click the video below to watch missionaries, mission organizations and MKs themselves telling you why MK Ministry is so important. (My part is only the first 30 seconds!)
Previous generations of MKs were left carrying spiritual and emotional baggage they never discussed or processed. My hope is that this current generation will be able to celebrate the huge and undeniable benefits of "growing up MK," while being aware of the dangers and equipped to handle them.

My goal in everything I do is this:
To use my platform to enlighten the world about MKs in order for missions to do better, parents to know better and MKs to live better.
The work takes many forms:
Speaking and training

– Educating the broader Christian world about MKs through teaching at mission conferences, at pre-field trainings, on college campuses and at MK schools.

Writing

– Exploring the topics we've historically failed to address in missionary circles. Fifty of my MK-related articles are here.

Consulting

– Missionary families and MKs of all ages regularly reach out to me through email, Skype and in person. Whether it's family strain or multi-cultural confusion, it's my honor to enter into their stories and address what I can from my own MK experience and through God's power to heal.

Creating new resources

– I produce videos that address key aspects of MKness. My hope is that these will help missions, missionary parents and MKs themselves to develop some clarity on complex issues.

Teaching and mentoring at MK reentry retreats

– Every summer, I participate in two reentry retreats for MKs just returning from overseas. They're run by the Canadian MK Network and are life-changing weeks of debriefing and healing.

Hosting

– Whether they're just passing through or students from Wheaton College (just down the road), my door is always open to MKs looking to escape into a welcoming home.


I. Because it didn't exist for me.
MK ministry didn't exist when I was growing up, yet I so deeply would have benefited from greater awareness of what shaped me and defined me. The confusion, the self-blame, the spiritual doubt, the dysfunction… It took me years to process through my own MK hardships on my own in order to understand myself and God better. I want today's MKs to be freed to thrive in their unique, undeniable strengths by providing for them what wasn't given to me.
II. Because it is bearing real fruit.
I've seen:
MKs

realize that the differences that challenge them can be turned into assets.

A sixteen-year-old

realize that putting words to the hard stuff can bring healing and doesn't shame his family or God.

An eighteen-year-old

release the anger that had held her captive and reach out for Jesus for the very first time.

Missionary parents

finally understand that their child's struggles weren't a spiritual weakness.

Fathers

understand that ministry becomes an idol when it replaces familial responsibility.

Moms

understand that it's okay to consider huge changes if they will bring stability and healing to a hurting child.

Families

restructure their priorities, open hard conversations and, in doing so, restore the health of both their ministry and their relationships.


JOIN TEAM MK! A $50 or $100/month commitment would be a huge step toward meeting this urgent need. You can start the process by clicking THIS LINK to my mission's website or contact me directly for help setting up donations by clicking HERE.
[After clicking on the mission's link above, enter the amount you'd like to start giving in the box at the very top of the screen and follow prompts from there.]
What more can you do?
Pray that people who understand the importance of MK Ministry will feel prompted to step forward.
Host a meal or a coffee time when I can come and explain what I do to you, your friends and colleagues.
Tell your spheres of influence about this need and encourage them to consider joining Team Phoenix.
Ask God if he wants

you

to come aboard this thriving and expanding ministry.
Please email me if you'd like to grab coffee or talk on the phone or over Skype. I want to tell you about what God has done and is doing every day through this work to which he called me! He has done far more than I ever imagined possible–and he isn't finished yet.


Please join the conversation!
Contribute your thoughts in the comments section below
Use the social media links to Like and Share this article
To subscribe, email michelesblog@gmail.com and write "subscribe" in the subject line
Pick up Of Stillness and Storm (my novel about a missionary calling gone awry) on Amazon