FRESH  OFF  THE  PRESS !

Flecks of Gold – Solace in the Shadowlands
With empathy and insight drawn from her own experience with cancer, Michèle weaves a comforting and clarifying vision of the nature of pain and God's enfolding nearness as we endure the unimaginable. Her photography, scattered across the book's thirty-two pages, draws the reader's eye to beauty in this intimate exploration and luminous reflection on suffering and faith.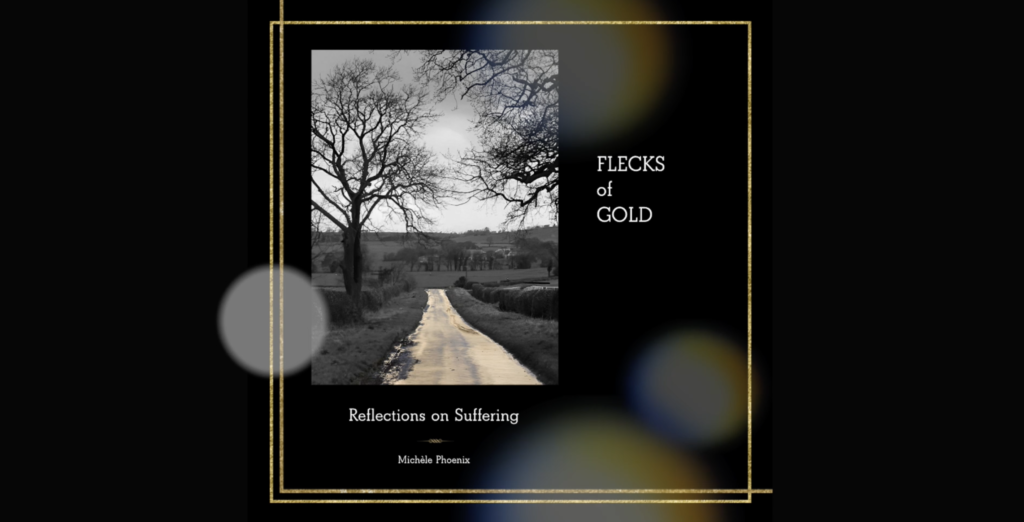 [Scroll to the bottom of this page for instructions on ordering]

EARLY FEEDBACK FROM READERS:
"Every word in this gorgeous book resonated with me. From Michele's description of getting her diagnosis to the upheaval and spiritual wrestling that followed. I finished my fist reading with tears in my eyes and fresh hope in my soul. What a gift this book will be to those who ache and those who love them." Susan Grisby
~~~
"As a pastor for the past three decades, I have journeyed with many through cancer. As I read Michele's story, I was moved, challenged, and encouraged. Shared with raw honesty and genuine faith, it will be an encouragement to anyone experiencing this dreaded disease—as a patient and as a caregiver." J. Scott Howington
~~~
"The dimension of pain and disappointment runs through this book, but so keenly felt is also the victory and hope as the journey unfolds." Joy Murphy

PRICING:
The cost of printing and shipping alone is $28, but I am only asking for donations, as I really want to get this book into the hands of those who need it the most. (At $28, I actually lose a bit for every book sold! This is not a money-making venture…)
IF you can pay the full amount, thank you.
IF you can't afford it, but would benefit from the book, please order anyway.
IF you're able to donate

more than $28

, you'll be covering for those who cannot at this time. (Let's hear it for random acts of kindness!)
SHIPPING:
Free within the United States.
Please add $15 for shipping to Canada. (I know—international postal rates are ridiculously high!) If you're in London, Ontario, I can bring copies to you in April or at a future trip with no extra shipping fee. Just order here and let me know you'd like it hand-delivered.
PAYMENT — include number of books requested and mailing address with payment
Venmo: @Michele-Phoenix
Paypal: shellphoenix@gmail.com
CashApp: $shellphoenix
Personal check: contact me for my mailing address by clicking this link